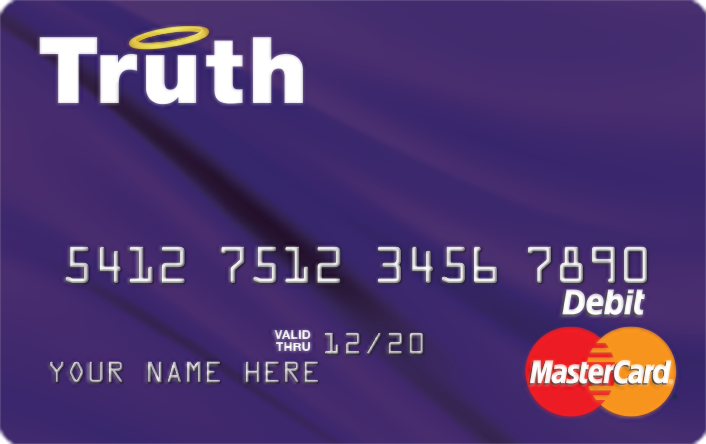 What Is A Prepaid Card?
A prepaid card is an easy way to manage money. It's not a credit card, so there's no credit check or minimum balance. (Subject to identity verification).
* Use as a bank alternative or to complement your current bank account
*Avoids check cashing fees and saves money with no-cost direct deposit of payroll or government benefits checks
*Better control over money – only spend the money loaded to the card
*Safer than carrying cash because it's FDIC-insured and includes MasterCard® Zero Liability

Why Should A Church Offer The Truth Card?

It's a new way for congregants to manage money! The Truth Card offers financial empowerment features that help congregants stay in control of spending, track their balance and even save money. Budgeting tools, transaction notifications and the ability to earn cash back on many everyday purchases are just a few ways The Truth Card helps make life a little easier.

How Will Church Members Order A Card?

Church members will visit www.mytruthcard.com to learn about The Truth Card and place orders online by providing their name and address. The card will arrive in 7-10 business days; they will activate it and verify their ID, then begin using the card.
Church Information: "New Beginning Church of PA, Phila., PA 19124"
The Truth Card Features Church Members Can Enjoy
*Get Paid up to 2 Days Faster with Direct Deposit Enroll in no-cost direct deposit for payroll or government benefits checks and get paid up to 2 days faster. It's a great way to avoid check cashing fees on those funds.
*Track Spending Receive alerts by text or email with account activity and balance. Use the Online Account Center or mobile app7 for Card Account access.
*Add Cash Load cash to the Card Account at 130,000+ NetSpend® Reload Network locations nationwide. (Fees may apply)
*Earn Cash Rewards Receive cash back offers on many everyday purchases.
*Move Money Easily move money to other Truth or NetSpend Card Accounts for no-cost.